Voice Lessons In Person, on Skype, or by Phone
Tatiana has decades of experience offering individual voice lessons in person, over the phone, and via Skype. She is expert in working with students on a broad range of skills and techniques including: vocal placement, timbre control, breath support, ear training, Balkan and Western harmony, and many others.

Skype name: tsarbinska
Cellphone: 301-728-5773
Landline: 301-865-2159
Balkan Singing Workshops
Tatiana has conducted Balkan singing workshops in cities across the United States, and has worked with a wide range of vocal and performance ensembles, ranging from professional singers to actors to non-professionals. To schedule a session, contact Tatiana by phone or email:
301-728-5773 (cell)
301-865-2159 (landline)
Tatiana's current and former voice students recommend her as being a profoundly skilled, energetic, generous, and inspiring teacher. Holding degrees in both music performance and education, she was the director of Bulgaria's Blagoevgrad Music School, and has also taught at Plovdiv Academy of Music and the Blagoevgrad Pedagogical University.
In the US, Tatiana has continued teaching, offering master classes at the New England Conservatory of Music, Boston University, and the Boston Conservatory. In August, 2006 she was a featured teacher during the Augusta Heritage Center's Vocal Week.
Tatiana has also taught workshops at folk events across the country, including the Eastern European Folklife Center's Balkan camp, and the "Buffalo on the Danube" workshop in Buffalo Gap, West Virginia.
In addition, Tatiana has coached well-known performing ensembles such as Kitka (in San Francisco), Libana (in Boston), Slaveya (in Washington, DC), Planina (in Denver), and others.
Tatiana is available for instruction in Balkan vocal technique and harmonies. She is versed in teaching aspects of placement, resonance, and breathing that allow vocalists to improve control of pitch, tone, and power. She teaches all levels, from beginner through advanced, and works with both adults and children. Tatiana also has extensive experience in Western "bel canto" vocal styles. Instruction can be one-on-one, or in a group or workshop format.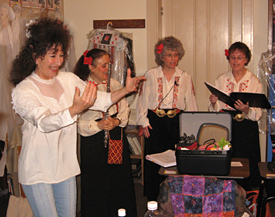 Tatiana warming up Divi Zheni before a concert. Photo by Bonnie Moses © 2007
For more information on arranging group or individual lessons, please contact Tatiana:
301-728-5773 (cell)
301-865-2159 (landline)